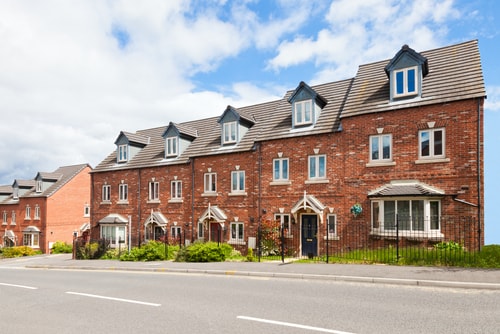 Residential window film by many is seen as a luxury, an additional expense that isn't an immediate necessity. However, while there are luxury options of window film available, such as frosted window film and decorative window film, there are some that are worth investing in, as they can offer protection and long-term savings. In this blog, we discuss the options as a homeowner or property developer you should be considering installing into your home or properties.
Decorative Window Film
Decorative window film is arguably one of the more 'luxurious' residential window film we sell. We can safely say this is not essential – unless you are all about style and impressions, in which case this is an essential window film. While this window film is closely associated with commercial buildings, that does not limit its use for residential purposes. With a range of patterns, colours, gradients, and styles available, there are no limits to making your home look unique. With decorative window film, you also have personalised designs that you can customise to include whatever theme you desire. Fancy a bathroom that looks like an aquarium? We can make that happen.
Insulation Window Film
Insulation window film is perhaps one of the most essential window films you can buy. Insulation window film, (or low emission window film) is perfect for both the warmer and colder months of the year. When it's warm, the film blocks out any solar heat, while allowing for light to come through at ease. During the colder winter months, the film allows sunlight through, whilst maintaining all the core heat of your home.
This is a great way of saving on energy bills, especially during the winter months. So while many people may see window film as a luxury, insulation window film is an essential investment that can save you money for years to come.
Privacy Window Film
For many people, this will simply be a way of stopping the postman from looking through your living room window when he delivers your post. However, for some people who live on busy roads or paths, they will constantly have passers-by looking right into their home on a constant basis, which does not give for much of a private life.
Privacy window film is available in a variety of patterns for a host of different styles of home, with an array of decorative options also available. While the simplicity of privacy film, this is an essential addition to anyone's home, with the luxury option of having decorative window film as an optional extra.
Frosted Window Film
Frosted window film may not be something you think a home will need, but there are circumstances that may well call for it as an essential. If you are renovating a home, or making some layout changes, then you may find yourself in need of frosted window film. Bathrooms and toilets are perhaps the most private rooms in the home, and having a clear window for all those outside to look through may not be what you want when having your morning shower.
There is a huge range of options when it comes to frosted window film, with sandblasted effects to acid-etched being just two of the designs available. Frosted window film is an alternative to privacy window film, but one that should be considered all the same.
Are you looking for residential window film? Contact the team here at Guardian Window Film today. We also offer Solar Residential Window film and a wide range of Commercial Window films for businesses.