Reeded film by Guardian Window Films at an impressive office renovation in Bristol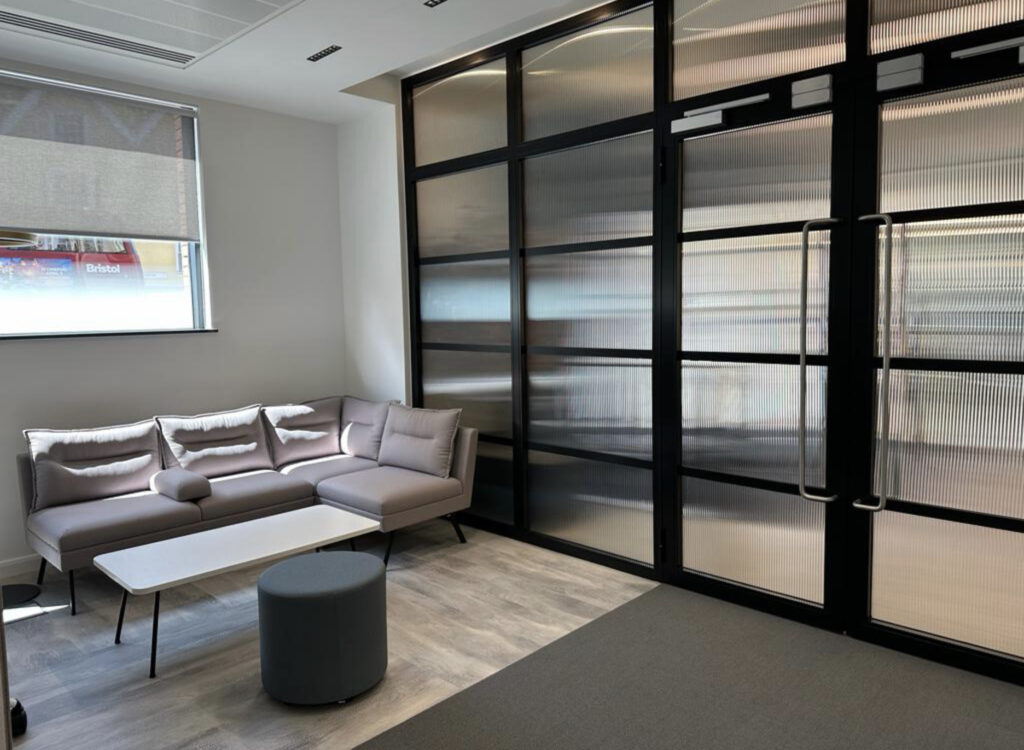 Enhancing Privacy with Reeded Privacy Film
Privacy is a crucial consideration in our living and working spaces. Reeded privacy film offers a stylish and practical solution to maintain privacy while allowing natural light.
What Is Reeded Privacy Film?
Reeded privacy film is a specialized window film designed to obscure the view through glass surfaces. It features distinctive vertical or horizontal ridges resembling reeds, allowing light to pass through while obscuring the view. It's suitable for windows, doors, shower enclosures, and office partitions.
Benefits of Reeded Privacy Film
Privacy: Reeded privacy film provides privacy without sacrificing natural light, making it ideal for bedrooms, bathrooms, and offices.
Aesthetic Appeal: Its unique texture enhances the visual appeal of a room, adding depth and dimension.
Reeded film is removable , making it suitable for renters and those who like to update their interior designs.
Creative Applications of Reeded Privacy Film
Residential Spaces:
Bathrooms: Achieve privacy and natural light in bathrooms by using reeded film on shower enclosures and windows.
Bedrooms: Install reeded film on bedroom windows for privacy and daylight.
Commercial Spaces:
Office Partitions: Improve workspace aesthetics and privacy for meeting rooms and workstations.
Storefronts: Use reeded film on storefront windows to create an intriguing visual barrier.
Decorative Applications:
Dividers: Create elegant room dividers or partitions with reeded privacy film.
Cabinet Doors: Upgrade kitchen or bathroom cabinets with reeded film for a modern, textured look.
Reeded privacy film is a versatile solution for maintaining privacy and natural light in your spaces. With its numerous benefits and creative applications, it's a valuable addition to any interior design project, striking the perfect balance between privacy and aesthetics.